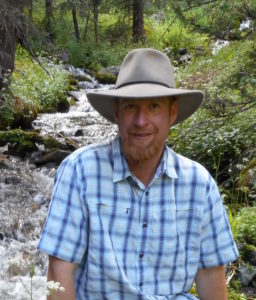 Craig Sponholtz founded Watershed Artisans, Inc. in 2003 and has since worked throughout the Southwest, the Southern Rockies and internationally to design and implement watershed restoration projects. He has a passion for sharing knowledge and inspiration and is dedicated to educating practitioners in the evolving art of healing the land.
Craig has more than two decades of experience in working with water in the landscape, which ranges from years of work on his own land to formal academic studies and collaborations with some of the world's leading practitioners. He earned a Masters Degree in Agro-Ecological Restoration from Prescott College in 2005 and a Permaculture Designer's Certificate at the Permaculture Research Institute in Australia in 2000. He spent a decade honing his skills in reading the landscape and ecosystem processes while working with the USDA Forest Service in wildland fire management.
Craig is a life-long learner and has completed comprehensive research and formal training in numerous stream and wetland restoration methods, including Induced Meandering, Natural Channel Design, Process-Based River Restoration and the RiverStyles River Assessment Framework, in addition to earning a River Restoration Professional Certification from Portland State University. He continuously learns new approaches and techniques from masters in diverse fields to incorporate into his work and teaching.  Craig is adept at applying the best of what he learns and blending it with his own experience to create a truly unique approach. His extensive hands-on experience, superb craftsmanship and artistic sensibility are evident in the water harvesting, erosion control and stream restoration projects that he has designed and built. He is widely known as an expert heavy equipment operator, specializing in the creation of artistic and functional in-stream structures.
Skills and Expertise
Creative multi-disciplinary approaches to stream and wetland health assessment.
Innovative process-based stream and wetland restoration and habitat improvement design.
Insightful and adaptive restoration project priority setting and logistical planning.
Skillful heavy equipment craftsman adept at creating functional, aesthetic and resilient structures.
Capable communicator and team player highly experienced at working within diverse partnerships.
Save
Save
Save